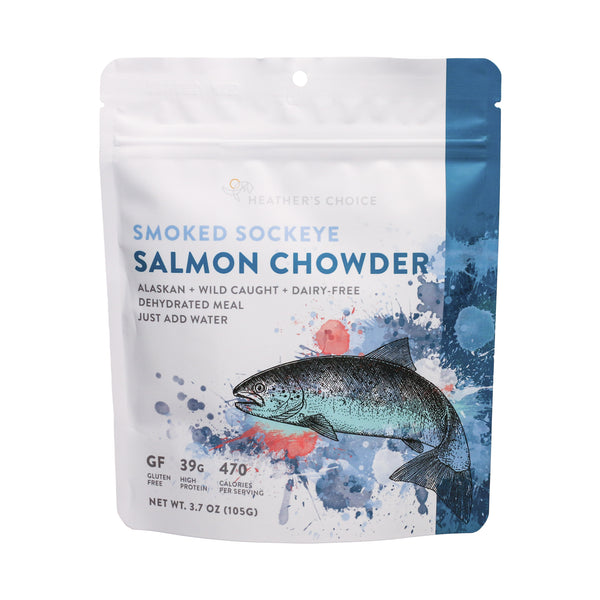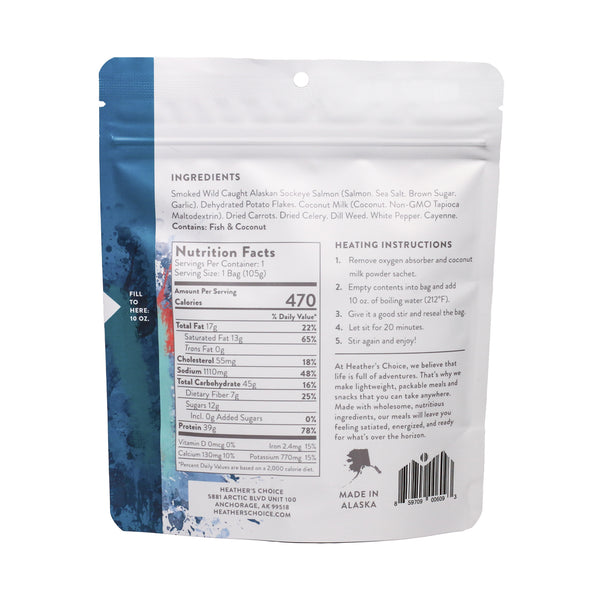 Smoked Sockeye Salmon Chowder
Dehydrated Dairy-Free Backpacking Meal
Wild-caught in Alaska and smoked locally, we mix hearty portions of salmon with veggies and seasonings, then add coconut milk powder for a calorie-rich boost. This deliciously creamy and dairy-free dish is our favorite backpacking meal!
Wild-caught salmon

Gluten-free

Dairy-free

39g of protein

470 calories

1 serving

Just add water
Preparation & Storage:
Boil at least 10 ounces of water.
Add boiling water to the water line in the pouch and give it a stir.
Let it sit for 20 minutes.
Add more water to reach your desired consistency and enjoy!
Shelf life: 2 Years. See product packaging for best-by date.
Can I eat this product after the expiration date? Our dinners have been tested to a shelf life of 2 years. We choose not to use additives or preservatives in our products. Because of this choice, the best-by date is when we can expect our products to be the freshest. We cannot suggest any of our products be consumed after their tested date.
Nutrition Facts:
Serving Size: 1 Pouch (105g). Servings Per Container: 1. Amount Per Serving: Calories: 470, Total Fat: 17g (22% DV), Saturated Fat: 13g (65% DV), Trans Fat: 0g, Cholesterol: 55mg (18% DV), Sodium: 1110mg (48% DV), Total Carbohydrates: 45g (16% DV), Dietary Fiber: 7g (25% DV), Sugars: 12g, Incl. 0g Added Sugars (0% DV), Protein: 39g (78% DV), Vit. D 0 mcg (0% DV), Iron 2.4mg (15% DV), Calcium 130mcg (10% DV), Potassium 770mg (15% DV).
*Percent Daily Values are based on a 2,000 calorie diet.
Ingredients:
Smoked Wild Caught Alaskan Sockeye Salmon (Salmon. Sea Salt. Brown Sugar. Garlic). Dehydrated Potato Flakes. Coconut Milk (Coconut. Non-GMO Tapioca Maltodextrin). Dried Carrots. Dried Celery. Dill Weed. White Pepper. Cayenne Pepper.
Contains: Fish & Coconut
Shipping Info:
All orders will be shipped within 3 days of purchase. Most of our orders ship USPS Priority 3 day mail and arrive within 5-7 days. Weather and federal holidays have caused rare delays.