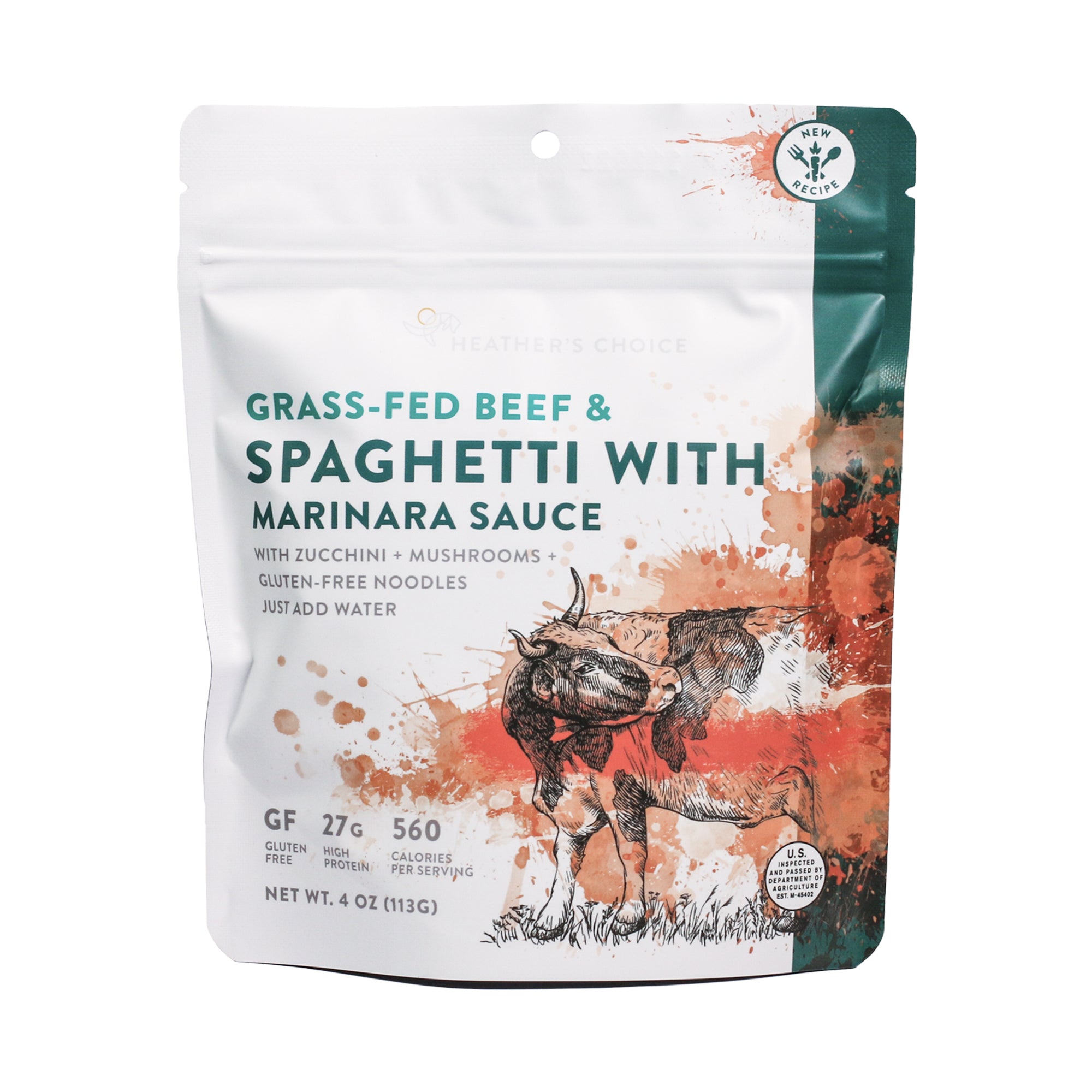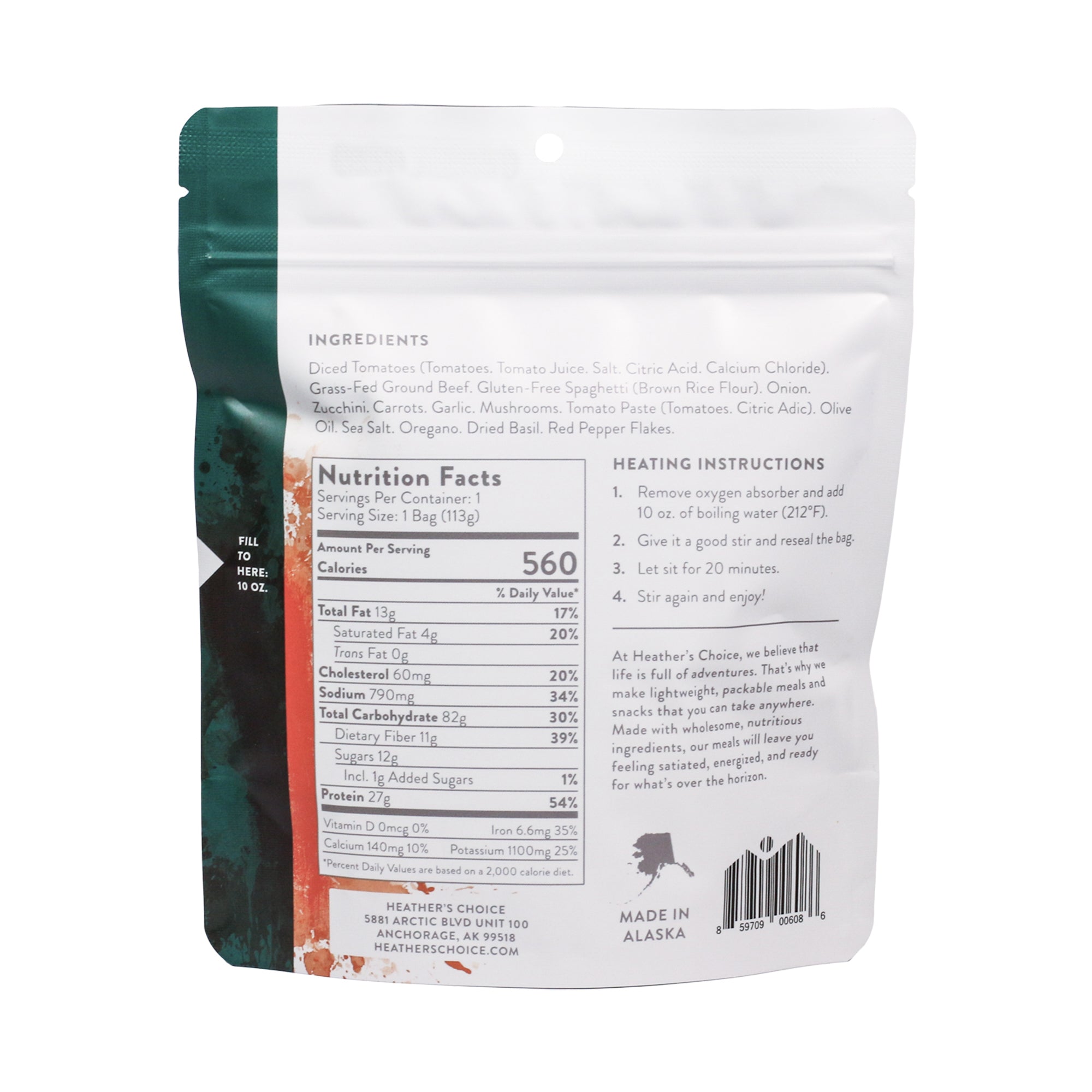 Grass-Fed Beef & Spaghetti with Marinara Sauce
Comfort food for when you're away from your mom's home cooking.
It's like mom's spaghetti, but in a bag! Our homemade marinara sauce mixed with 100% grass-fed beef, lots of veggies, and gluten-free noodles makes for the ultimate comfort food on-the-go. Sprinkle some parmesan on top or pair it with a flask of red wine for an extra touch of fancy.
100% grass-fed beef

Gluten-free

Dairy-free

27g of protein

560 calories

1 serving

Just add water
Preparation & Storage:
Boil at least 10 ounces of water.
Add boiling water to the water line in the pouch and give it a stir.
Let it sit for 20 minutes.
Add more water to reach your desired consistency and enjoy!
Shelf life: 2 Years. See product packaging for best-by date.
Can I eat this product after the expiration date? Our dinners have been tested to a shelf life of 2 years. We choose not to use additives or preservatives in our products. Because of this choice, the best-by date is when we can expect our products to be the freshest. We cannot suggest any of our products be consumed after their tested date.
Nutrition Facts:
Serving Size: 1 Bag (113g). Servings Per Container: 1. Amount Per Serving: Calories: 560, Total Fat 13g (17% DV), Saturated Fat: 4g (20% DV), Trans Fat 0g, Cholesterol: 60mg (20% DV), Sodium: 790mg (34% DV), Total Carbohydrates: 82g (30% DV), Dietary Fiber: 11g (39% DV), Sugars: 12g, Incl. 1g Added Sugars (1% DV), Protein: 27g (54%), Vit. D 0mcg (0% DV), Iron 6.6mg (35% DV), Calcium 140mcg (10% DV), Potassium 1100mg (25% DV).
*Percent Daily Values are based on a 2,000 calorie diet.
Ingredients:
Diced Tomatoes (Tomatoes. Tomato Juice. Salt. Citric Acid. Calcium Chloride). Grass-Fed Ground Beef. Gluten-Free Spaghetti (Brown Rice Flour). Onion. Zucchini. Carrots. Garlic. Mushrooms. Tomato Paste (Tomatoes. Citric Acid). Olive Oil. Sea Salt. Oregano. Dried Basil. Red Pepper Flakes.
Shipping Info:
All orders will be shipped within 7-14 days of purchase. Most of our orders ship USPS Priority 3 day mail and arrive within 5-7 days of shipment. Weather and federal holidays may cause rare delays.
---
"Delicious after a big day! Sits well and fuels the body right. Quality meals every time!"
"Very, very tasty! Heather's Choice is a great company, great values and really good food. Give them a shot. You will NOT be disappointed."
"I love Packaroons. They are the 'bitcoin' of the outdoors. I often hand them out to people I meet on the trail or kind strangers who help me on my journey. Who doesn't love a treat like this?"
Stay up-to-date
Blog posts