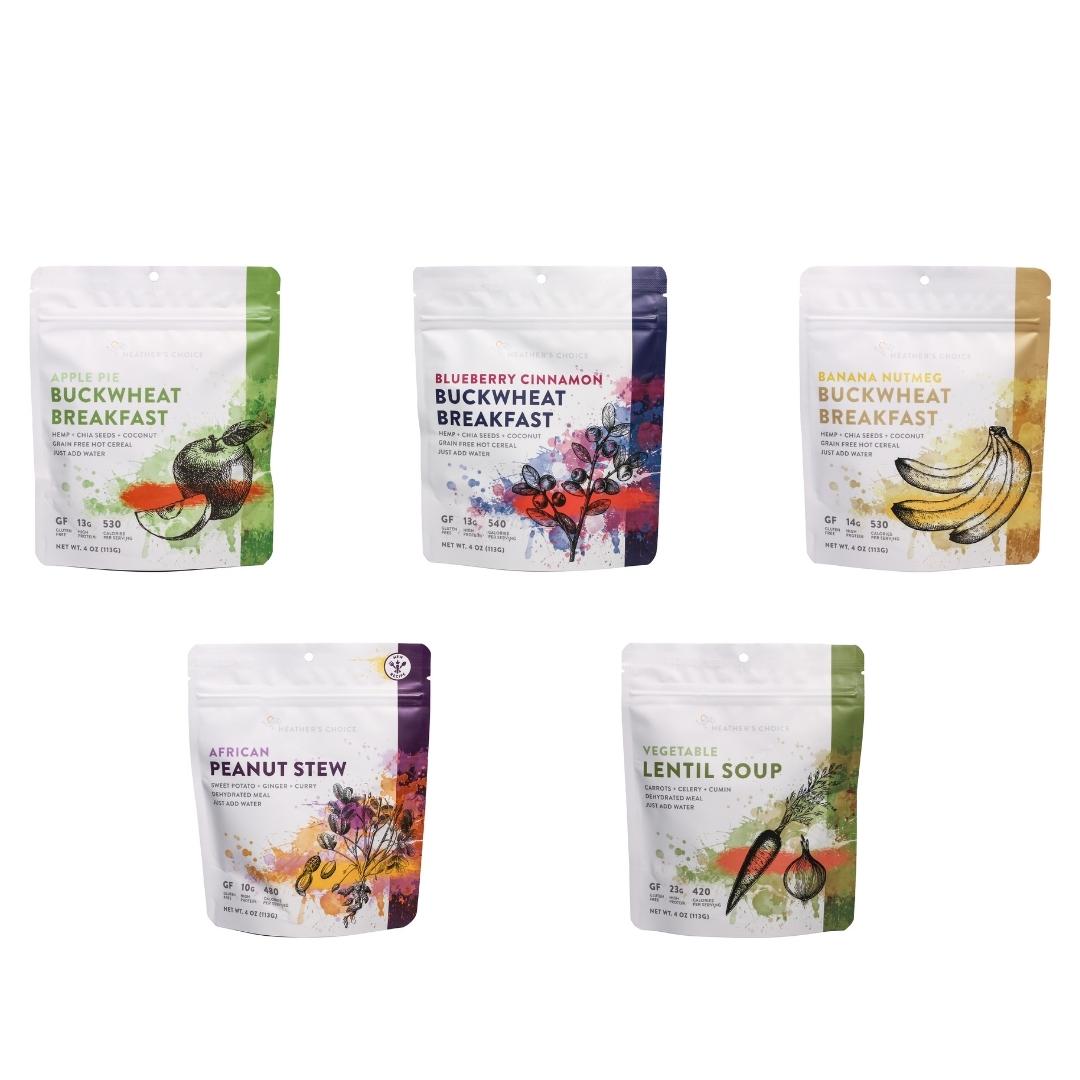 Vegan Sampler
If you're looking for vegan-friendly options to take on your next backpacking trip, you're in luck! We have vegan and vegetarian meals that will keep you feeling full and energized on your excursions.
Our buckwheat breakfast blends are made with a mix of grain-free and dairy-free ingredients including hemp, chia seeds, and coconut milk powder. Simply add hot water to the bag, and you have a creamy, hot cereal to enjoy in just five minutes!
Our vegan-friendly dinners are hearty enough for even our carnivorous customers to enjoy. These meals pack over 450 calories per serving, and are loaded with protein-rich ingredients like peanut butter and lentils. Our vegetarian team members at Heather's Choice go NUTS for African Peanut Stew and our Lentil Vegetable Soup.
FAQ
Why dehydrated and not freeze-dried?
Weight, taste, and nutrition are all things we take very seriously with our meals. The dehydrating process helps our meals maintain the original product's texture, taste, and nutrients which are often lost when freeze-drying. 
How much water is needed?
Start with 4-ounces of water for the breakfasts and 10 ounces for the dinners. After that, add more to reach the desired consistency.
How do I rehydrate my meals?
Simply add boiling water to the bag! We know how important it is to reduce weight in the backcountry, so we've created recipes that you can simply add hot water to. Let the dinners sit for 20 minutes, the breakfasts for 5, and enjoy!
---
"Delicious after a big day! Sits well and fuels the body right. Quality meals every time!"
"Very, very tasty! Heather's Choice is a great company, great values and really good food. Give them a shot. You will NOT be disappointed."
"I love Packaroons. They are the 'bitcoin' of the outdoors. I often hand them out to people I meet on the trail or kind strangers who help me on my journey. Who doesn't love a treat like this?"
Stay up-to-date
Blog posts