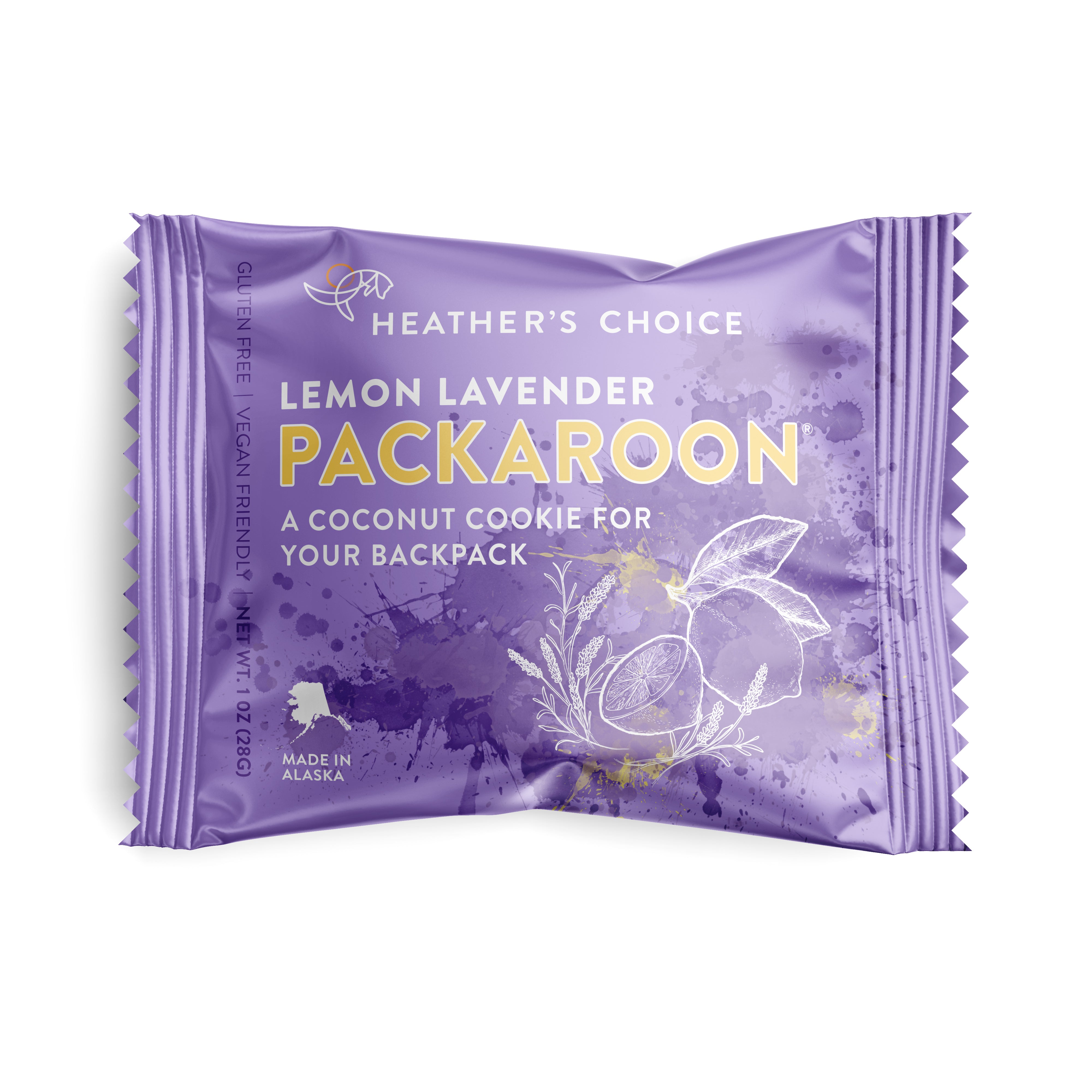 Lemon Lavender Packaroon®
A unique flavor that you will absolutely love!
Floral, meet citrus! Our Lemon Lavender Packaroons have been a fan favorite for nearly a decade. Each coconut cookie is packed with healthy calories to give you the energy you need for all of life's adventures!
Gluten-free

Dairy-free

Plant-based

180 calories

1 serving

Pocket-sized for on-the-go snacking
Nutrition Facts:
Serving Size: 1 Packaroon (28g). Servings Per Container: 1. Amount Per Serving: Calories: 180, Calories From Fat: 130, Total Fat 14g (22% DV), Saturated Fat: 10g (50% DV), Trans Fat 0g, Cholesterol: 0mg (0% DV), Sodium: 50mg (2% DV), Total Carb: 13g (4% DV), Dietary Fiber: 3g (12% DV), Sugars: 8g, Protein: 3g, Vit A (0% DV), Vit C (0% DV), Calcium (2% DV), Iron (4% DV).
*Percent Daily Values are based on a 2,000 calorie diet.
Shelf life: 1 year. See product packaging for best-by date.
Ingredients:
Shredded Coconut*. Maple Syrup*. Almond Flour. Coconut Butter*. Vanilla Extract. Lemon Oil. Lavender. Sea Salt.
*Certified Organic Ingredients
Contains: Coconut & Almonds
Shipping Info:
All orders will be shipped within 7-14 days of purchase. Most of our orders ship USPS Priority 3 day mail and arrive within 5-7 days of shipment. Weather and federal holidays may cause rare delays.
---
"Delicious after a big day! Sits well and fuels the body right. Quality meals every time!"
"Very, very tasty! Heather's Choice is a great company, great values and really good food. Give them a shot. You will NOT be disappointed."
"I love Packaroons. They are the 'bitcoin' of the outdoors. I often hand them out to people I meet on the trail or kind strangers who help me on my journey. Who doesn't love a treat like this?"
Stay up-to-date
Blog posts