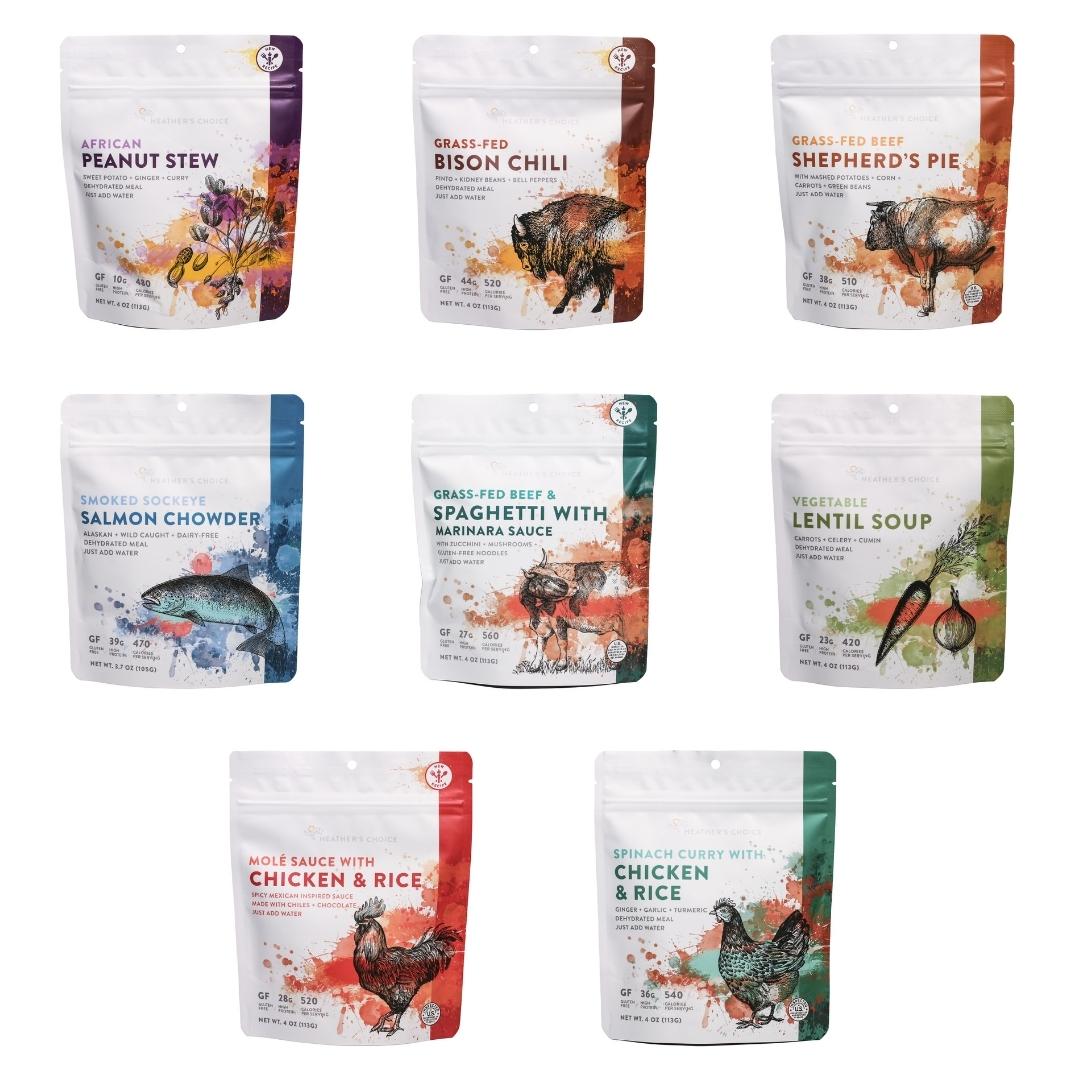 Dinner Sampler
Get a taste of the full Heather's Choice dinner lineup! Our just add hot water dinners are the perfect companion for any backcountry trip...or any time you're away from your home kitchen. All of these meals are single serving and simply require water to rehydrate. Tear open the bag, add boiling water, wait twenty minutes, then enjoy a hot, healthy meal that will leave you feeling full and satisfied.
We're proud to offer a wide range of meal options that include wild-caught Alaskan sockeye salmon, 100% grass-fed bison and beef, along with organic chicken, and vegan-friendly meals as well.
FAQ
Why dehydrated and not freeze-dried?
Weight, taste, and nutrition are all things we take very seriously with our meals. The dehydrating process helps our meals maintain the original product's texture, taste, and nutrients which are often lost when freeze-drying. 
How much water is needed?
Start with 4-ounces of water for the breakfasts and 10 ounces for the dinners. After that, add more to reach the desired consistency.
How do I rehydrate my meals?
Simply add boiling water to the bag! We know how important it is to reduce weight in the backcountry, so we've created recipes that you can simply add hot water to. Let the dinners sit for 20 minutes, the breakfasts for 5, and enjoy!
---
"Delicious after a big day! Sits well and fuels the body right. Quality meals every time!"
"Very, very tasty! Heather's Choice is a great company, great values and really good food. Give them a shot. You will NOT be disappointed."
"I love Packaroons. They are the 'bitcoin' of the outdoors. I often hand them out to people I meet on the trail or kind strangers who help me on my journey. Who doesn't love a treat like this?"
Stay up-to-date
Blog posts