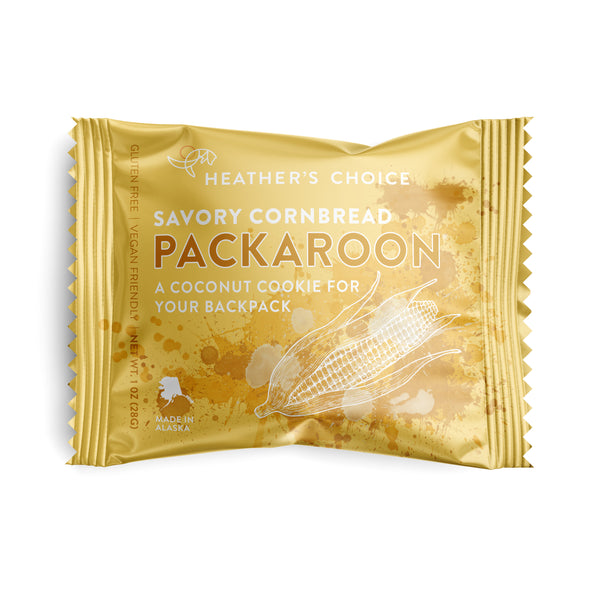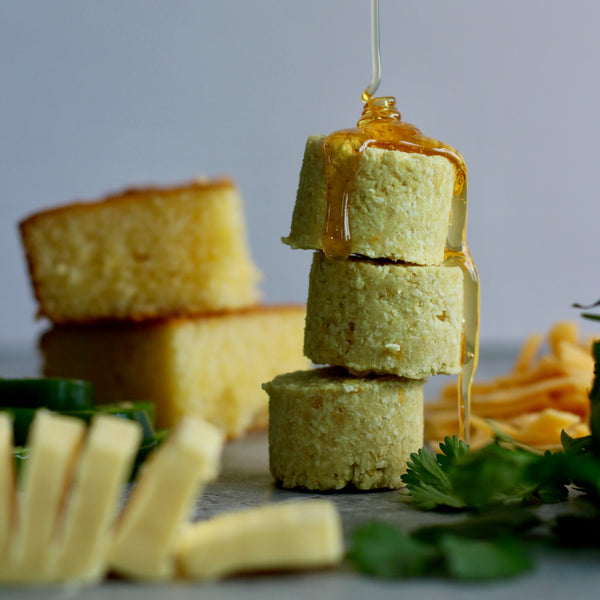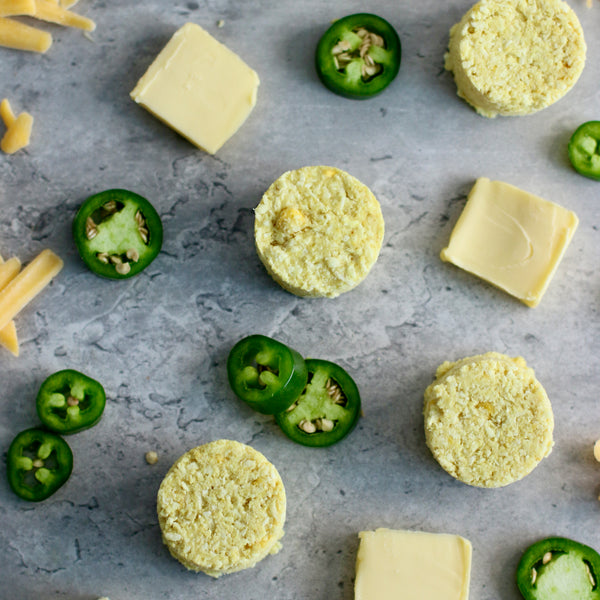 Savory Cornbread Packaroon
100% GLUTEN FREE
•  
A tasty cookie for your backpack that's completely gluten-free.
PLANT-BASED
•  
Completely plant-based to keep your adventures going.
ONE SERVING
•  
Ready to take with you on every adventure.
What to expect
Why a cornbread Packaroon?
I mean, come on! It's the perfect combination! Peanut butter and jelly. Bacon and eggs. Cornbread and chili. The corn flour is chocked full of fiber and complex carbohydrates, and the honey not only provides sweetness but also a quick burst of energy so you can crush more miles.
At 160 calories per ounce, you'll be hard-pressed to find a higher-calorie, pocket-sized snack that pairs perfectly with butter.
Nutrition Facts
Serving Size: 1 Packaroon (28g). Servings Per Container: 1. Amount Per Serving: Calories: 150, Total Fat 11g (14% DV), Saturated Fat: 8g (40% DV), Trans Fat 0g, Cholesterol: 0mg (0% DV), Sodium: 45mg (2% DV), Total Carb: 12g (4% DV), Fiber: 2g (7% DV), Total Sugars: 8g, (Incl. 6g Added Sugars, 12% DV), Protein: 2g, Vit D (0% DV), Calcium (2% DV), Iron (4% DV), Potas. (0% DV).
*Percent Daily Values are based on a 2,000 calorie diet.
Ingredients
Shredded Coconut*. Honey. Masa Harina (Corn Flour). Coconut Oil*. Dried Corn. Sea Salt.
*Certified Organic Ingredients
Contains: Coconut & Corn
This product has a one-year shelf life.
FAQ
Why dehydrated and not freeze-dried?
•
Weight, taste, and nutrition are all things we take very seriously with our meals. The dehydrating process helps our meals maintain the original product's texture, taste, and nutrients which are often lost when freeze-drying. 
When will this item be restocked?
•
Our kitchen crew is working daily to keep all our products in stock!If you would like to be notified when a product is back in stock, head to that product page and choose the "Email when back in stock" option beneath the product image!
Can I eat your products after the expiration date?
•
Our breakfasts and Packaroons have been lab tested for a 1-year shelf life. Our dinners have been tested to a shelf life of 2 years. We choose not to use additives or preservatives in our products. Because of this choice, the best-by date is when we can expect our products to be the freshest. We cannot suggest any of our products be consumed after their tested date.
How long will it take for my order to ship?
•
All orders will be shipped within 3 days of purchase. Most of our orders ship USPS Priority 3-day mail and arrive within 5-7 days. Weather and federal holidays have caused rare delays.