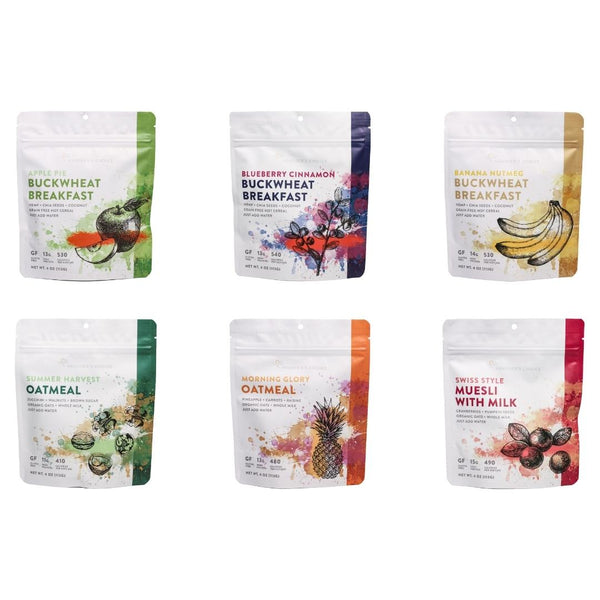 Regular price
$ 49.95
Sale price
$ 53.70
Looking for healthy, wholesome meals to kickstart your day? We got you!
All of our just add hot water breakfasts are made with delicious, high-quality ingredients to help you start your day on the right foot. With this sampler, you get to try our buckwheat breakfast blends, which are a grain-free and dairy-free option to enjoy on the trail, or at home!
You also get an assortment of our gluten-free and organic oatmeal blends, which have proven to be a Heather's Choice customer favorite.
Simply open the bag, add boiling water, wait five minutes, and you have a hot, healthy meal to enjoy any time, anywhere!
FAQ
Why dehydrated and not freeze-dried?
Weight, taste, and nutrition are all things we take very seriously with our meals. The dehydrating process helps our meals maintain the original product's texture, taste, and nutrients which are often lost when freeze-drying. 
How much water is needed?
Start with 4-ounces of water for the breakfasts and 10 ounces for the dinners. After that, add more to reach the desired consistency.
How do I rehydrate my meals?
Simply add boiling water to the bag! We know how important it is to reduce weight in the backcountry, so we've created recipes that you can simply add hot water to. Let the dinners sit for 20 minutes, the breakfasts for 5, and enjoy!