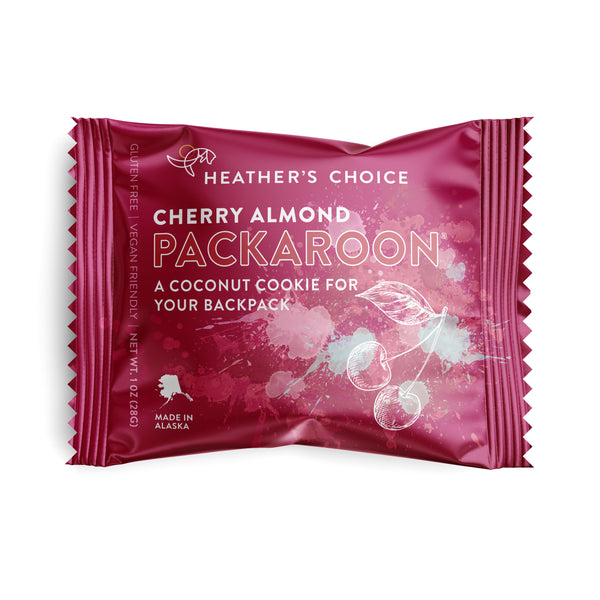 Cherry Almond Packaroon®
Energizing Vegan-Friendly Snacks
Indulge your taste buds with our Cherry Almond Packaroons! These delightful, bite-sized treats combine the tartness of cherries with the nutty goodness of almonds, making them a perfect on-the-go snack for a quick boost of energy.
Gluten-free

Dairy-free

Plant-based & vegan-friendly

170 calories

1 serving

Pocket-sized for on-the-go snacking
Nutrition Facts:
Serving Size: 1 Packaroon (28g). Servings Per Container: 1. Amount Per Serving: Calories: 170, Calories From Fat: 120, Total Fat 13g (20% DV), Saturated Fat: 10g (50% DV), Trans Fat 0g, Cholesterol: 0mg (0% DV), Sodium: 65mg (3% DV), Total Carb: 15g (5% DV), Dietary Fiber: 3g (12% DV), Sugars: 10g, Protein: 2g, Vit A (0% DV), Vit C (0% DV), Calcium (2% DV), Iron (4% DV).
*Percent Daily Values are based on a 2,000 calorie diet.
Shelf life: 1 year. See product packaging for best-by date.
Ingredients:
Shredded Coconut.* Maple Syrup.* Almond Flour. Coconut Butter.* Dried Cherries. Almond Extract. Sea Salt.
*Certified Organic Ingredients
Contains: Coconut & Almonds
Shipping Info:
All orders will be shipped within 3 days of purchase. Most of our orders ship USPS Priority 3 day mail and arrive within 5-7 days. Weather and federal holidays have caused rare delays.